Ordering Information
Catalog Number
DE4


DE16


PS16
RT20


VMIX
VMIX2
Description
4-Vial Kit
US DEFINITY®
16-Vial Kit
US DEFINITY®
PINSYNC® - Box of 16
20-Vial Kit
US DEFINITY® RT*
VIALMIX®†
VIALMIX®RFID†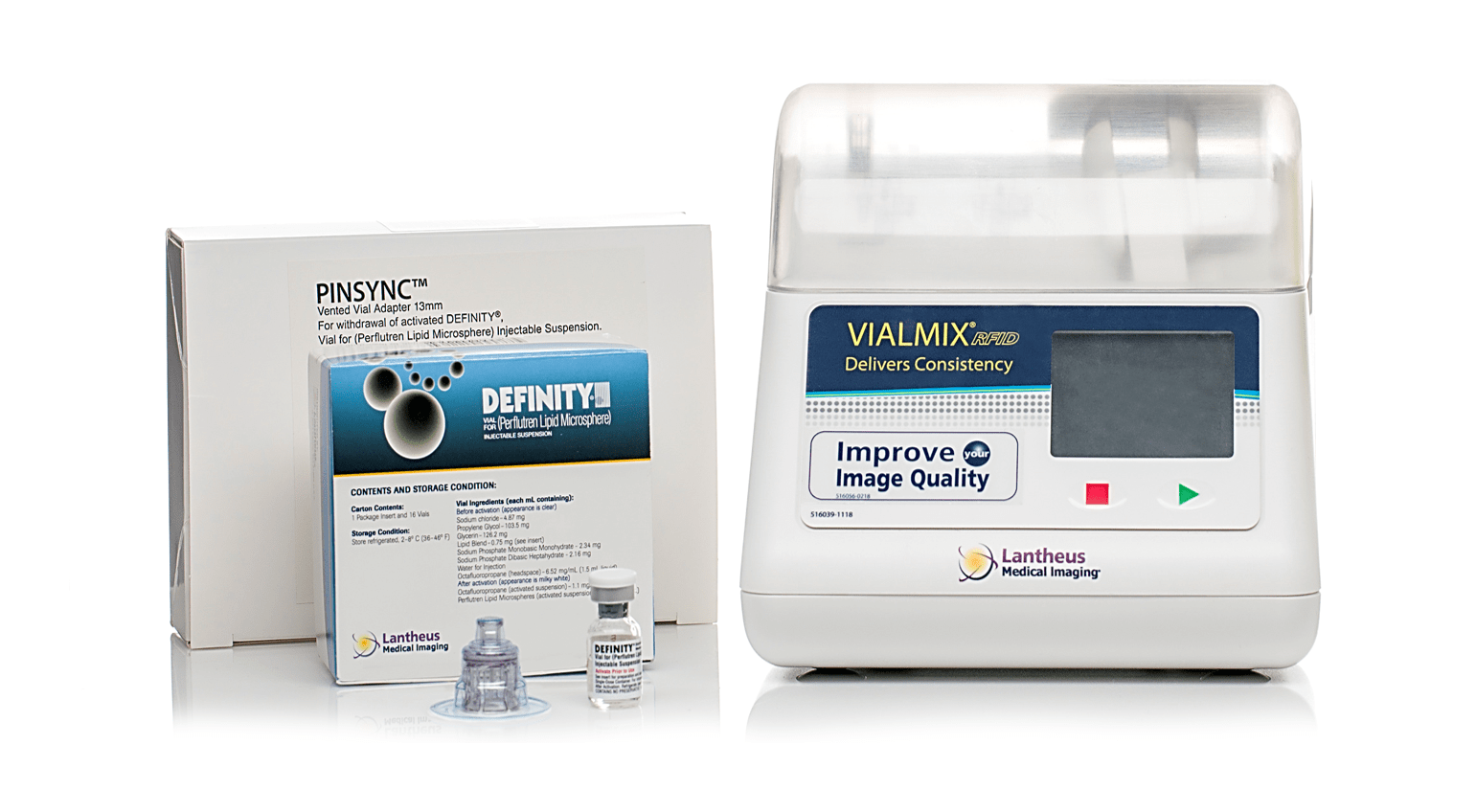 DEFINITY® is shipped for overnight delivery and requires refrigeration upon arrival.
*Supplied with 13mm ViaLok® (Vented Vial Access Device).
†VIALMIX® and VIALMIX®RFID are provided at no charge to customers who use DEFINITY®.
Reimbursement
Medicare Reimbursement for DEFINITY®
Lantheus cannot guarantee coverage or payment for products or procedures. Payer policies can vary widely and third-party payment for medical products and services is affected by numerous factors. It is always the provider's responsibility to determine and submit appropriate codes, charges, and modifiers for services rendered. For more specific information, contact your third-party payer directly in order to obtain up-to-date coverage, coding, and payment information.
It is not the policy of Lantheus Medical Imaging, Inc. to issue refunds for products. However, credit or replacement may be available for the following reasons:
Lost or damaged goods if reported within two weeks of receipt of damaged product
Pricing discrepancies
Technical/performance problems, such as product fails to appear milky white after activation
Product shipped in excess of requested order if reported within two weeks of customer receipt of excess product
Replacements will be authorized only for complete boxes (not individual vials) and shipped at the original order price
Credit for items returned due to technical/performance problems will be issued upon receipt of defective material
To initiate a return, contact customer service at 1.800.299.3431 and request authorization for return.
Sign up for DEFINITY® updates and announcements
Explore the potential of DEFINITY® through our webinars
Know your suboptimal echo rate.
Ask about the IMPROVE program.